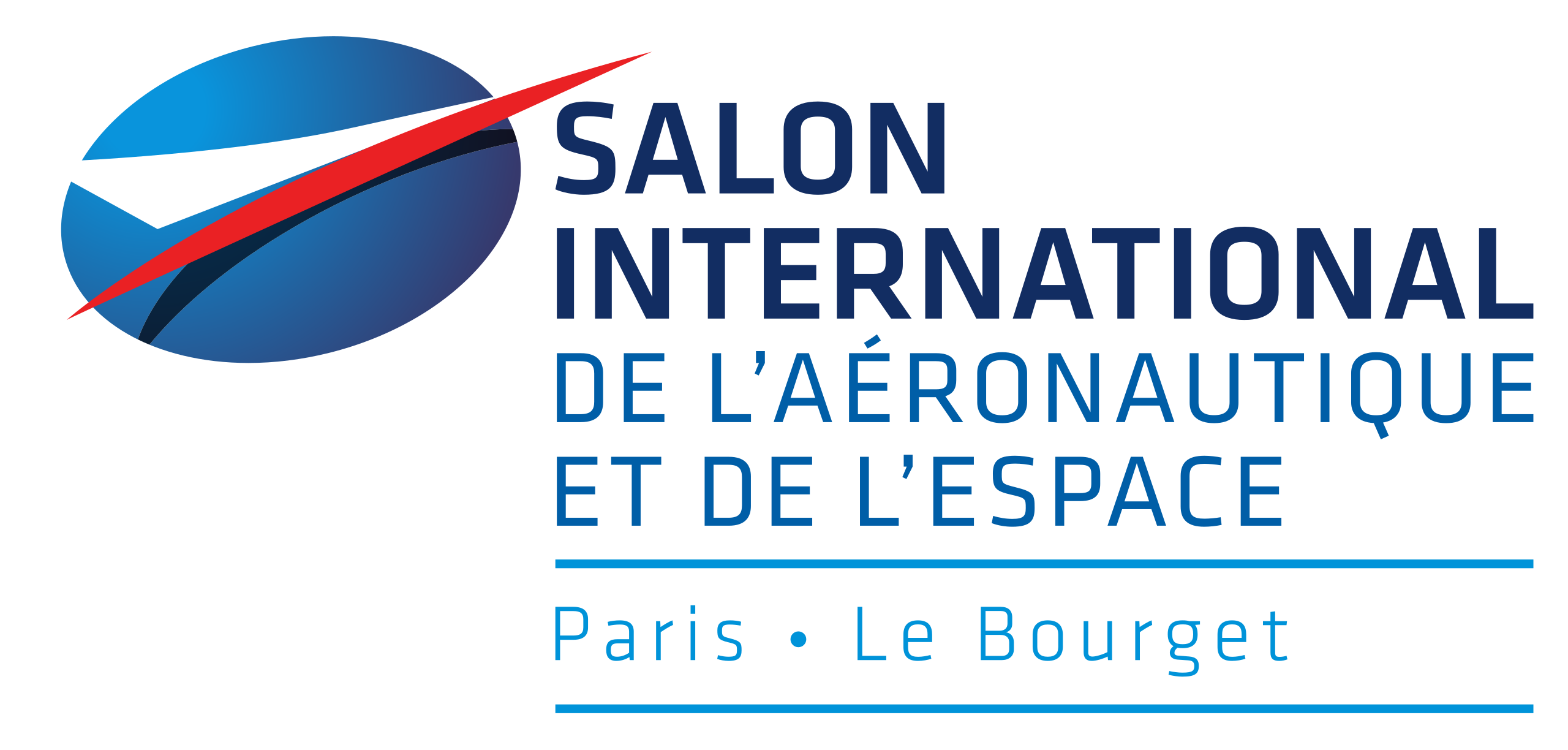 We are excited to present our webzine, a comprehensive report highlighting our participation at the Salon International de l'Aéronautique et de l'Espace (SIAE). This webzine serves as a detailed account of our experiences, achievements, and key moments during the event. Stay tuned for an enlightening read that captures the essence of our SIAE journey and our commitment to advancing the future of healthcare.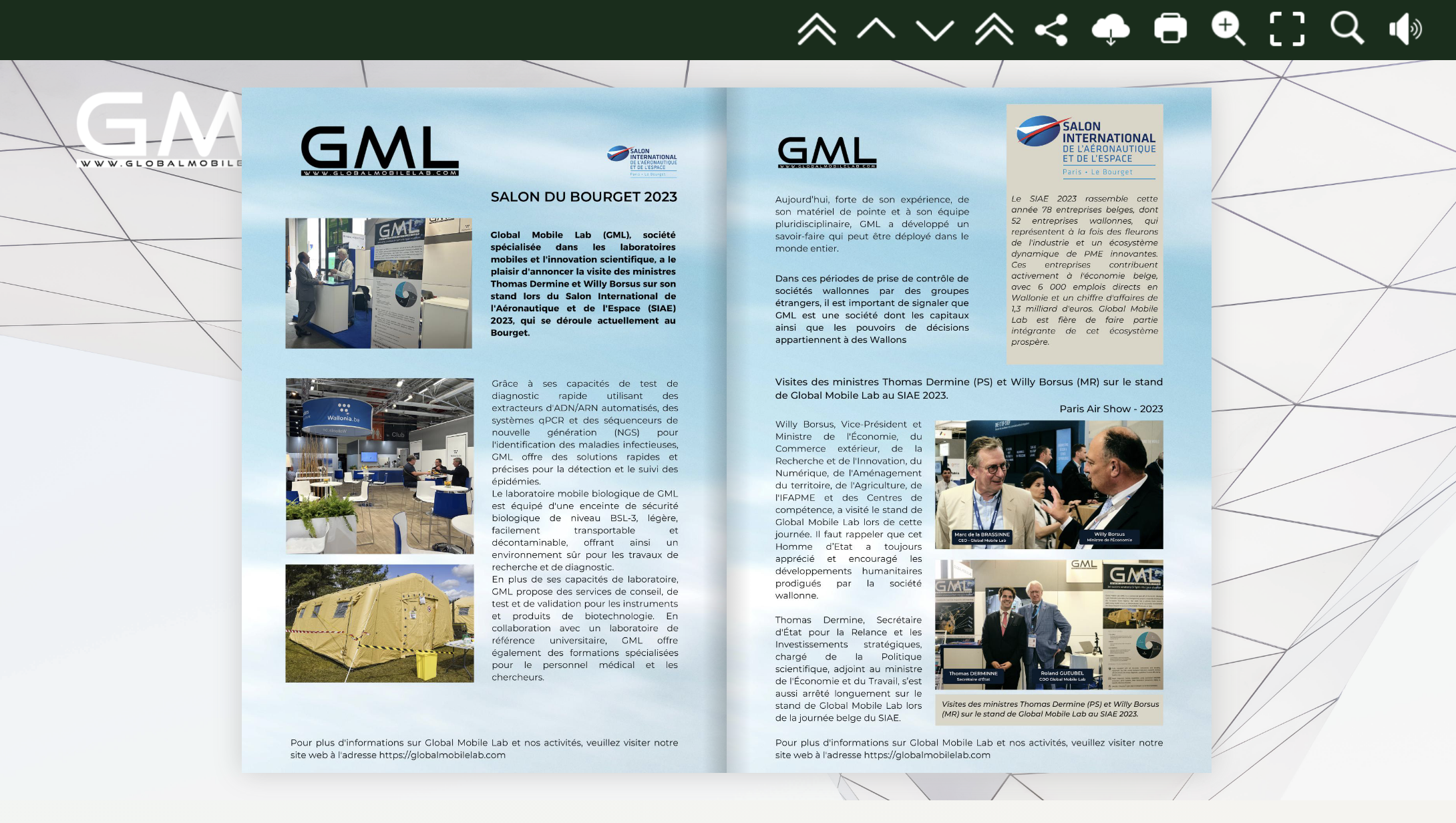 Global Mobile Lab (GML) is thrilled to share the remarkable success achieved during our participation at the renowned Salon International de l'Aéronautique et de l'Espace (SIAE) 2023. Our innovative mobile biology and telemedicine solutions made a significant impact, attracting industry experts, researchers, and potential partners. Join us as we reflect on the highlights and achievements of our participation, showcasing our commitment to ethical practices and our contributions to global health crises.
At SIAE 2023, GML showcased our cutting-edge mobile biological laboratory and telemedicine solutions. Visitors were captivated by our fully equipped facility, advanced instruments, and biosafety equipment. Our offerings support medical infrastructures and provide rapid diagnostic testing capabilities in areas affected by health crises. The attention garnered at SIAE validated our commitment to driving innovation in healthcare.
Visits of Ministers Thomas Dermine (PS) and Willy Borsus (MR) to the Global Mobile Lab booth at SIAE 2023.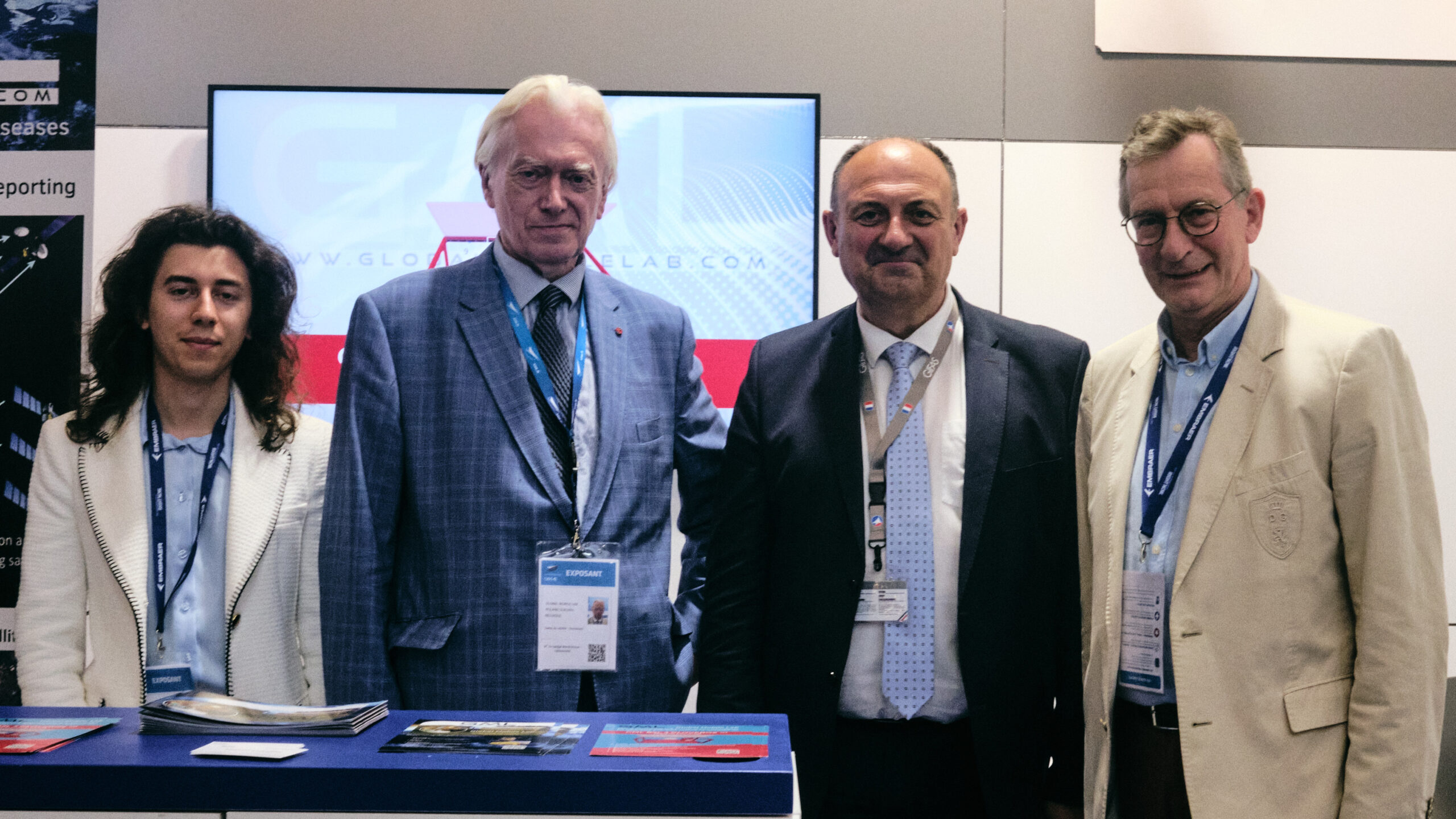 Willy Borsus, Vice President and Minister of Economy, Foreign Trade, Research and Innovation, Digital, Regional Planning, Agriculture, IFAPME, and Competence Centers, visited the booth of Global Mobile Lab during the event. It should be noted that this statesman has always appreciated and encouraged the humanitarian developments provided by the Walloon company.
Thomas Dermine, Secretary of State for Recovery and Strategic Investments, responsible for Scientific Policy and Deputy Minister of Economy and Labor, also spent considerable time at the Global Mobile Lab booth during the Belgian day of SIAE.
One of the highlights of our participation at SIAE was the invaluable connections made. We had the privilege of engaging with key decision-makers, industry leaders, and potential partners who share our vision for transforming healthcare through technology. These connections open doors for future collaborations and ventures, further driving innovation and advancement in the field.
Attending SIAE allowed GML to stay at the forefront of the aerospace and aeronautics sectors. Through presentations, workshops, and exhibitions, we gained insights into the latest trends and advancements. This knowledge enables us to enhance our offerings and continuously provide cutting-edge solutions to our clients.
We are excited to announce that at SIAE 2023, we had the opportunity to showcase our latest innovation, the GML BSL 3 GLOVEBOX™. Developed by Global Mobile Lab (GML), this advanced glovebox is designed for laboratory and field operations at biosafety level 3.
The GML BSL 3 GLOVEBOX™ offers a range of features to enhance safety and efficiency. It is lightweight and easy to transport, making it suitable for various settings. The integrated SAS (Sample Access System) and removable container allow convenient input and output of samples. The glovebox includes pressure monitoring and control, ensuring a controlled environment. With sealing control and an integrated decontamination system, biosafety is prioritized.
To facilitate seamless operations, the glovebox is equipped with equipment interfaces, power supply, and an integrated lighting system. It complies with the ISO 10648 standard, ensuring compatibility and adherence to industry guidelines.
We are proud to provide this cutting-edge solution that enables safe and efficient work in biosafety level 3 environments. The GML BSL 3 GLOVEBOX™ reinforces our commitment to advancing mobile biology and telemedicine while prioritizing the safety and well-being of our users.
Join us as we take you on an exhilarating journey through the air show demonstration at Salon International de l'Aéronautique et de l'Espace (SIAE) 2023. Witness breathtaking aerial maneuvers, flying planes, and cutting-edge aircraft technology in action. Get a front-row seat to the excitement and adrenaline of this captivating showcase. Don't miss out on this thrilling experience!